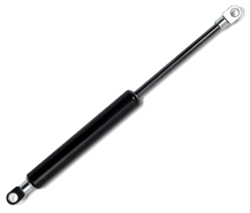 Our gas springs are from Bashbach. Bansbach easylift is a company operating internationally with over 50 years of experience manufacturing high quality gas springs.
The production range covers nearly all dimensions and forces that are required for your specific application. Easylift gas springs are used everywhere in the industrial field. Besides the automotive and furniture industry, there are numerous applications in the machinery and equipment design. We also offer special solutions to meet the special requirements in the medical and aircraft industry. The continuous production of special sizes and our extensive stock enable us to meet nearly all requirements within a remarkably short time.
Bansbach maintains several international quality certifications in many different markets, including aeronautics. The success of the easylift® system is based on these certifications. Quality is assured, wherever you are in the world. Due to the high quality of our springs, it will achieve a longer service life, that is to the benefit of both the environment and ultimately far more profitable for our customers, as the interval for replacement is significantly extended.
If you need a gas spring for a tailgate, trailer, for your kitchen cabinets or for a bigger project, you're welcome to contact us on bibus@bibus.dk or (+45) 75 88 21 22, then we'll help you find the gas spring that suits your needs.
---
---
---
Find our gas springs on our webshop Kantlister.dk
---
Calculation of gas springs and dampers
If you need a gas spring or damper that does not replace a previous spring or have a specific task, you should get a correct calculation for your gas springs pressure, size, stroke length etc. We are always available to help you calculate your gas springs.
To best calculate the specifications for your gas spring and how it should be mounted, you should be ready with the following information: the weight, center of gravity, dimensions, movement rate in degrees and the required strength.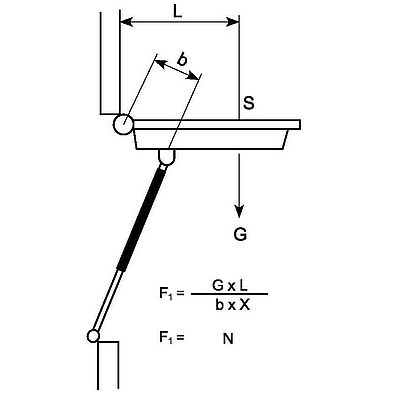 * Gas spring mounted with ball socket A3
S = flap center of gravity
G = the flap dead weight
B = distance from the gas spring to pivot point
X = number of springs (usually 2 per. flap)
F1 = gas spring pressure in Nm
---
CAD drawing of your gas spring
CAD files for your individual Gas Spring or easyE-line actuator?
No problem with the new CAD Configurator.

Bansbach CAD Configurator
---
Although these words are used as a synonym for each other in many cases, it is far from the same. A gas damper and a gas spring have different functions and cover widely different needs. It is therefore important to understand the difference and know how a gas spring and a gas damper work.
What is a gas spring?
A gas spring is a practical device used where you need a controlled pressure without an external energy. Most people would recognise a gas spring used for a tailgate on the car, where the gas spring gives the pressure to lift the flap without having to use forces.
How does a gas spring work?
A gas spring expels the piston rod in the given stroke with a controlled pressure, which is controlled by the gas thats filled in the cylinder. A blockable gas spring on the other hand has a controlled pressure until total blocking in a desired position in both directions, most commonly known as a gas spring for an armchair.
What is a gas damper?
A gas damper or more correctly an oil damper is used as a safety and function element for damping the speed and braking of masses. These are best known for self-closing doors or for a horse trailer, where a gas damper ensures a damped opening and / or closing speed.
How does a gas damper work?
A gas damper is a closed pressure container where the gas affects the end piece of the piston rod, which will then be pushed according to the predetermined speed and damping - both the discharge speed and the damping can be varied. The gas - or more properly Nitrogen - can be compressed but will at any time try to expand.
The maximum pressure in gas springs and gas dampers is determined by the diameter of the piston rod and the individual options can be read in the catalog on page 10-11.
---
Installation of your gas spring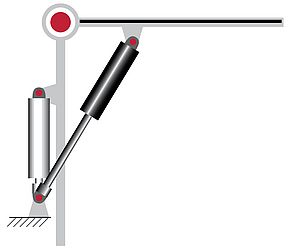 If you want your gas spring to last for a long time and make it work optimally, then it is important that it is mounted correctly.
If possible, be sure to mount a gas spring to a horizontal of 45 degrees and mount with the piston rod pointing downwards, to ensure that the oil lubricates the sealment and the slide bearing correctly.
Only Bansbach gas springs have this integrated lubrication chamber, which allows mounting independently of position, but it is recommended to mount it with the piston rod downwards, as this position ensures the best degree of damping.
If the gas spring is exposed to moisture, always use a stainless steel spring and associated fittings. We can offer these as standard in several different sizes and at the desired pressure, without emptying your wallet. All our stainless steel springs are fitted as standard with a valve that makes them more universal.
When you buy a gas spring from BIBUS SINDBY, you can always get guidance with the technical details that apply in your case from our consultants.
---
About Bansbach and their gas springs
Bansbach was founded in 1919 as a manufacturer of stamping tools. With their in house turning shop, and over 50 years of experience in gas spring production, they have evolved into a world wide operating premium supplier.
Modern production processes and a certified quality system, guaranty that Bansbach gas springs are of the highest qualitiy standard. Using their test and development laboratory, products and technology are constantly being improved. A complete machine shop allows for a deep vertical range of manufacturing with the shortest lead times.
Bansbach Gas springs are manufactured with the highest quality, environmentally friendly materials. Consistent quality is guaranteed due to the diligent monitoring of raw materials, an aggressive testing program and a redundant quality control program throughout the production process. Re-ordered products are consistently produced accurately by using their technologically advanced manufacturing processes.
Advantages of Bansbach Gas springs:
Highest corrosion resistance achieved through powder coated cylinders and CeramPro® treated piston rod surfaces.

Minimal friction for the production of lowest extension forces.

Best life cycles.

Protection against vibration and light side forces.

Integrated grease chamber.

Low break away forces.

Installation and storage in any position.
CeramPro® Piston rod
The CeramPro® surface treatment is a new innovative development from the Bansbach development laboratory. CeramPro® offers maximum rust and corrosion resistance of the piston rod. This special surface treatment provides an extremely smooth surface with excellent operating characteristics which provide superior protection against abrasion to the rod.

---
Find gas springs on our webshop
---
---
---